Internationally Valid OCS Environmental Certification
PAGEV is the Turkey Representative of Internationally Recognized OCS Environmental Certificate
PAGEV, in continuation of its efforts to contribute to the visionary development of the sector on a mission to achieve "Responsible Industry, Problem-Free Environment", has been working on "Operation Clean Sweep" since 2016 in partnership with the Plastics Industry Association and the American Chemistry Council, which is a striking example of the sector's contributions to nature and leaving a livable world for future generations. The Operation Good Sweep (OCS), a product stewardship program of the Plastics Division of the American Chemistry Council and the Plastics Industry Association (PLASTICS), was first introduced in the US in 1990 and has been implemented in Europe since 2015. The program is included in the "Global Action Plan for Solutions to Marine Litter" to assist the industry's role in addressing marine litter, with a global goal of zero loss of pellets, flakes and powder. Companies that adopt the Operation Clean Sweep program boost their prestige as well as create global exposure for their brands.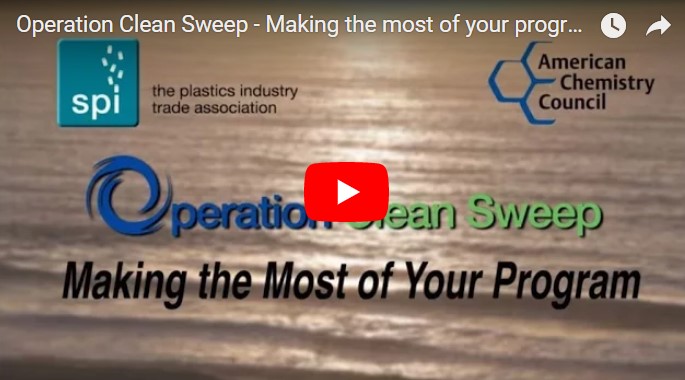 Click here to watch the Operation Clean Sweep (OCS) management.
The "Operation Clean Sweep" project ensures that plastic pellets, flakes and powder passing through plastic production facilities are handled with due care and do not end up in rivers or seas. Operation Clean Sweep, a voluntary management program for facilities using plastic materials, aims to prevent the leakage of plastic raw materials into seas or rivers due to spillages that occur in production or transport with the motto "No piece is too small". Plastic products are made by melting and shaping plastic raw materials in the form of small pellets. During production or transportation, these pellets can spill on the ground and enter the sea through sewage. The Operation Clean Sweep (OCS) movement provides awareness, education and inspection services to ensure that plastic raw material particles, which also carry economic value, do not pose a danger to marine life.
Companies joining Operation Clean Sweep pledge to adhere to best practices and implement systems to reduce plastic pellet loss and play their part in protecting the waters. Representing the global project in Turkey, PAGEV carries out training-certification activities in many companies in order to raise awareness of Turkish companies on the subject and to include them in the movement. Work continues online whenever needed under pandemic restrictions.
Be a Part of Operation Clean Sweep!
The internationally recognized Operation Clean Sweep Certificate helps your company to keep plastic pellets on site, demonstrates your company's commitment to the environment and shows that you are a responsible producer. By participating in Operation Clean Sweep, you are demonstrating corporate social responsibility and we encourage you to publicize your participation as widely as possible.
Here are some other benefits for your company:
- Forms part of your sustainability/environmental initiatives
- Maximizes the use of raw materials
- Prevents slip and fall accidents
- Increases operational efficiency
- Contributes to the improvement of water quality and wildlife
- Protects the good name of your company and the plastics industry
Companies that participate in the movement not only raise awareness on zero pellet, flake and powder loss, but also receive a certificate showing their commitment to the environment.
For details, please visit the web page and contact PAGEV Environmental Engineer Nagihan KUL (0212 425 13 13 - nagihan.kul@pagev.org.tr).
Click here to watch the Operation Clean Sweep (OCS) management.