Plastics processing volumes rising / Lower raw material prices depress industry sales / Expansion of exports / Pagev criticises low added value and volume of raw material imports
Turkey's economy has started on a path of growth again. Although GDP shrank to USD 734 bn (EUR 679 bn) in 2019, a turnaround evidently started in the second half of last year, being 0.9% higher in the third quarter. Following the currency crisis in mid-2018, the country's economy had been contracting.
According to Turkish plastics industry association Pagev, the contribution of the plastics sector to Turkey's economy is gradually increasing. Plastic goods production rose 3.4% to 9.46m t in 2019, but this remains below the value in 2017 (9.62m t), while production value fell 2.5% to USD 33.4 bn (EUR 30.9 bn).
The World Bank predicts that there will be no contraction in Turkey's economy for the full year 2019. The growth forecast for 2020 is 3%, and for 2021 it is 4%, although it is expected that 2020 will not be an easy year for the country's economy.
Trade volumes of polymers rise while production remains flat
Turkish production of polymers was at around 761,000 t in the first nine months of 2019. In this period, LDPE made up 31% of the plastic resins produced, PET 23%, PVC 15%, PP 12%, PS 10% and HDPE 9%. For full-year 2019, plastics production remains flat compared to the year before at around 1.014m t, with the same quantity predicted to be produced in 2020. According to PIE's Polyglobe database (www.polyglobe.net), the country's total capacity for standard thermoplastics is around 1.5m t/y.
New polymer capacities are being planned in Turkey, such as a 450,000 t/y PP plant expected to be completed at the end of 2023. In 2018, Koksan announced an investment for a second PET line, which should raise its production capacity to around 400,000 t/y in 2021.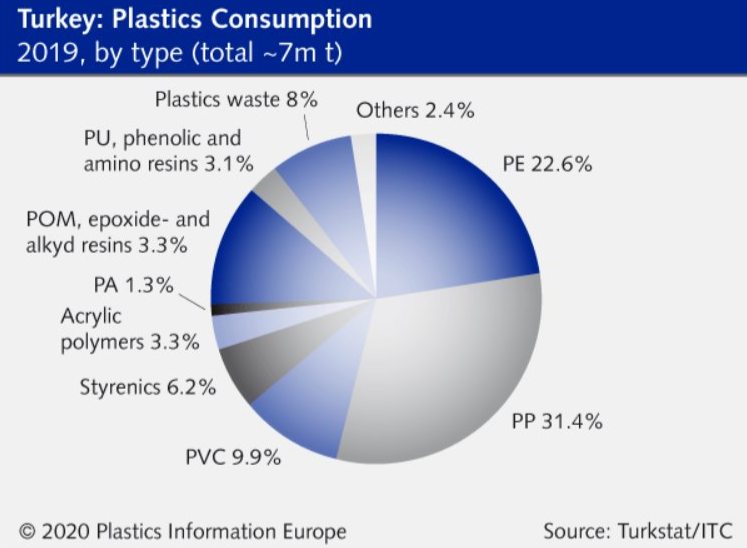 Turkey imports and exports plastic resins both from and to over 100 countries each year. More than 7.0m t and USD 9.0 bn of plastic raw materials were imported into Turkey in 2019. These imports rose 3.9% on a volume basis and fell 10.5% on a value basis in 2019 compared to 2018. The largest imports by volume were polyethylene and polypropylene in 2019, together making up a 54% share of total plastic resin imports.
In 2019, 10 countries made up 64% of plastic resin imports by volume and 67% by value. Saudi Arabia, South Korea and Germany were the top three sources for Turkey's plastic raw material imports.
Around 1.0m t and USD 1.29 bn of plastic resins were exported from Turkey last year. Plastic raw material exports saw a year-on-year increase of 22.4% by volume and a 5.6% increase by value in 2019. Acrylic polymers and polyacetals formed the biggest share in total plastic raw material exports, both by volume (49%) and value (54%), in 2019.
Last year, Turkey exported plastic raw materials to 10 countries that totalled a 49% share of Turkish resin exports by volume and 51% by value. Germany, Iran and Egypt were the top three countries receiving plastic raw materials from Turkey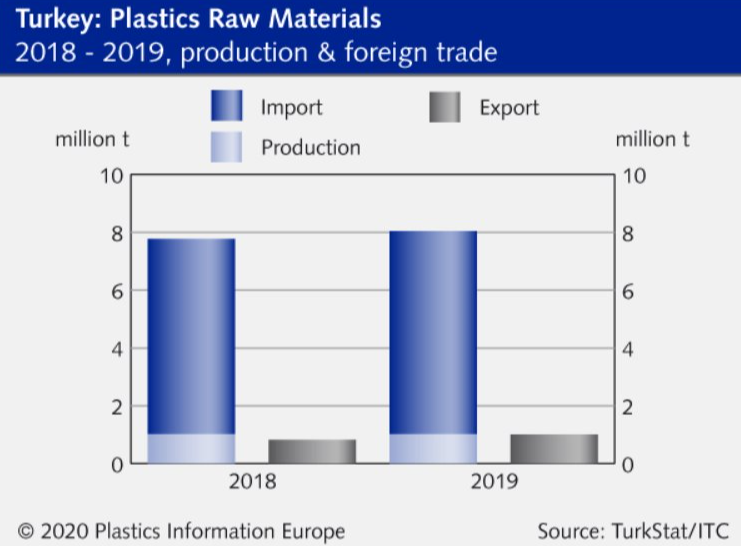 The country has a trade deficit in plastic resins, and in 2019, it was just over 6m t and USD 7.8 bn. The trade deficit rose 1.4% on a volume basis but fell 12.7% on a value basis in 2019 compared to the year before. Expectations in the plastics industry for 2020 are that import and export volumes will both increase, by 4% and 5%, respectively.
Domestic consumption on an uptrend
Turkish consumption of plastic resins was at 7.03m t and USD 9.1 bn in 2019, up 1.2% and down 12.9%, respectively, compared to the previous year. In 2019, 87% of domestic consumption was met by imports.
For 2020, it is predicted that domestic consumption of plastic raw materials will go up by 3%. Around 88% of this demand is expected to be covered by imports, with the trade deficit at 6.3m t of plastic raw materials.
Plastic goods sector set for growth
Plastic packaging materials led the pack for Turkish production of plastic goods in 2019, with approximately 3.8m t (40% of total) produced. Plastic construction materials followed at 2.1m t. Total production of plastic end products amounted to 9.46m t last year.
Compared to 2018, imports of plastic end products fell 1.7% on a volume basis and by 8.2% on a value basis in 2019. On the other hand, exports of plastic goods increased in terms of volume and value, by 5.1% and 0.8%, respectively.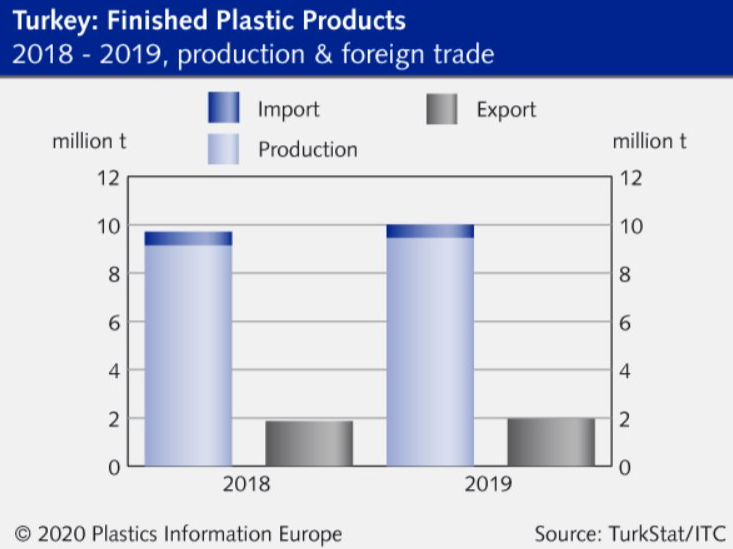 Each year, Turkey imports plastic end products from more than 100 countries and exports plastic goods to more than 200 countries. In 2019, imports from 10 countries accounted for 66% of total imports by volume and 73% by value. In this period, Germany became the main market for Turkish imports of plastic goods, accounting for 14% by volume and 19% by value. China was the second largest source.
Ten countries accounted for 49% by volume and 46% by value of exports of Turkish plastic end products in 2019. In this period, Iraq, Germany, the UK, Israel and the US formed Turkey's biggest export markets for plastic goods.
In 2019, the average import price of plastic end products was down 7% at USD 4.59/kg, and the average export price was 4% lower at USD 2.48/kg compared to the year before. Turkey has a foreign trade surplus in plastic end products, and last year this amounted to 1.4m t and nearly USD 2.3 bn – 8.1% higher by volume and up 13.2% by value.
Domestic consumption of plastic products was up 2.6% year on year at 8.1m t and 3.5% lower at USD 31.1 bn in 2019. Approximately 4m t of total consumption was exported indirectly as finished and semi-finished products through exporting industry channels such as automotive, packaging, construction and electronics. The remaining 4.1m t were consumed directly.
For 2020, it is predicted that plastic goods production volumes will increase 4%. Additionally, imports will rise by 1%, exports by 5% and domestic consumption by 4%. According to these expectations, 1.492m t of a foreign trade surplus of plastic end products is expected, with 21% of production being exported. Around 7% of Turkish consumption of plastic goods is expected to be met by imports.
The difficult economic environment in Turkey and globally makes it challenging for the country to compete with sales prices that are at a standstill or even declining as well as narrow profit margins. As a result, Pagev sees that it could be important for Turkey to produce high value-added raw materials. Taxes that Turkish companies pay when importing raw materials such as PP and PE to meet domestic demand are a hurdle to remaining competitive. Measures to provide support for this would help the country's plastics industry in the competitive global and EU markets.
*Source: Plastics Information Europe (PIE)