President Erdoğan Meets with
U.S. Chamber, TOBB and Multinationals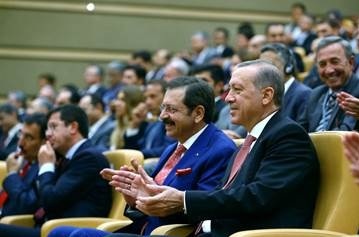 President of Turkey Recep Tayyip Erdoğan, President of TOBB Rifat Hisarcıklıoğlu during meeting with General Managers of Global Companies in Turkey.
On Tuesday, August 2, President of Turkey Recep Tayyip Erdoğan hosted a meeting at the presidential complex in Ankara with general managers of global companies. Participation was coordinated through the Union of Chambers and Commodity Exchanges (TOBB) and the International Investors Association of Turkey (YASED) represented by their respective Presidents. More than 25 U.S. Chamber of Commerce U.S.-Turkey Business Council members were in attendance.
Our Plastic Industry is also organised under the TOBB with in"TOBB Plastic , RUbber and Composites Industry Assembly" presidented by Yavuz EROGLU.
President Erdoğan was joined by key economic officials Deputy Prime Minister Mehmet Şimşek, Minister of Economy Nihat Zeybekci, and Minister of Finance Naci Ağbal.
The President delivered three overarching messages to reassure foreign investors.
1. Turkey remains committed to foreign investment and foreign investors. The business community is a priority in Turkey and their needs will be met.
2. Turkey knows how to separate business from politics and will maintain a strong public-private sector dialogue.
3. Turkey will use the current State of Emergency to implement more economic reforms and reduce red tape.
TOBB President Rifat Hisarcıklıoğlu spoke during the meeting on behalf of the private sector, presenting a joint proclamation that had been prepared with companies earlier that morning.
The proclamation stands with Turkey's democracy following the July 15 coup attempt and calls for continued structural reforms to enhance the business environment, intellectual property rights (the current draft patent law), among other reforms.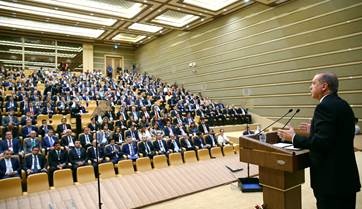 President of Turkey Recep Tayyip Erdoğan addresses leading foreign investors in Turkey.
Quotes from President Erdoğan's Speech
"I speak to international investors, don't be concerned about Turkey, this country is safe and secure."
"We never take any steps to hurt or to harm investors. I personally prevent this. There are no interventions in the economy because of the state emergency."
Praising international investment in Turkey, President Erdoğan said global investors "know Turkey is one of the most trustable countries in the world."
Foreign investors have poured more than $150B into Turkey since 2003, including over $16 billion last year, according to Turkey's Ministry of Economy.
President Erdoğan said Turkey aims to have a gross national product of $2 trillion, per capita income of $25,000 and $500 billion in exports by 2023.
"All doors will be open to every investor, Turkey has big aims and potentials to reach [its] aims."
"Turkey has had a lot of problems but [it] has never forgotten its real targets. We did not stop building roads, airports, bridges."
He said Turkey would not suffer economically as a result of the coup attempt and that his government would "never stop" implementing reforms and working for the economy.
"We [will] never take [any] steps back," President Erdoğan said. He urged investors to inform his government if they experience any hurdles related to legislations to receive help and eliminate problems.
Companies left the meeting satisfied with the President's message and eager to continue engaging in public-private sector dialogue to encourage structural reforms and the modernization of the European Union Customs Union that will lead to more investment from their companies.