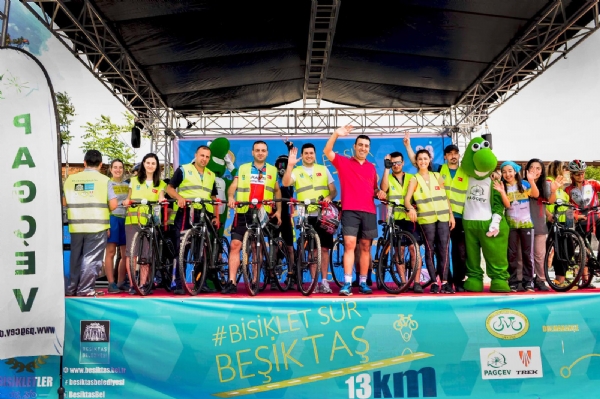 PAGÇEV DECLARES WAR AGAINST WASTES WITH ECO-FRIENDLY BICYCLES
PAGÇEV, the recycling entity of the Turkish Plastics Foundation (PAGEV) authorized for the packaging wastes, aims to reduce CO2 emission by popularizing bicycles to preserve our natural resources. Based on its environmental protection mission, PAGÇEV intends to increase the number of bicyclers to create a sustainable environment and promote recycling.
PAGÇEV emphasizes that the regulation on design and construction of bike lanes, bike stations and bike stands on the urban roads by the Ministry of Environment and Urbanization will help increase the number of bikers on the roads, thus reducing the carbon emission.
Explaining the difference between looking and seeing, the Chairman of Executive Board of PAGÇEV Yavuz Eroğlu said: "We use vehicles such as cars and buses to arrive our destination as soon as possible. We do not give our environment much thought in our hectic and feverish lives. However, bicycles help people see the beauties and freshness around them while realizing the disharmony and pollution. According to studies, bicyclers are one of the most sensitive communities towards environment. People are encouraged to use bicycles all over the world, e.g. Seville in Spain. Roads and bike lanes were regulated in Seville: use of bicycles increased 10x in 3 years. 6 thousand people used to ride bicycle every day; but thanks to the bike roads amounting to 120 km, over 60 thousand people use bicycles now, which means 10% of the people living in the city travels by bicycles. More importantly, 30% of the people who began travelling by bikes do not use their cars anymore. We may use this example in Turkey. A regulation on design and construction of bike lanes, bike stations and bike stands on the urban roads has recently been issued. This regulation will increase the number of healthy and eco-friendly citizens, and will help us live in a city where environment, health and development harmoniously create welfare.
"Dünya Gazetesi published us on the back-page on 26.11.2015"